DarkMoon Template
DarkMoon theme [NEW CUSTOM COLORS PICKERS] [8 colors, +20 options settings, multiple design for vote page]

if you have any problem contact me on discord: Sloyni#1405
Available in English and French
Multiple color option (8 colors + 2 CUSTOM COLORS) : Red, Blue, Green, Purple, Orange, Yellow, Aqua and Pink, NEW CUSTOM COLORS !
+20 option settings !
Colors settings
Custom colors settings
Vote page design selection (2 option)
Header description
Header copy ip
Presentation section (show or hide)
Video presentation
Description of the presentation
News (show or hide)
Enable or disable the slide on news
Enable or disable the socials widgets
Discord server id (for widget)
Twitter name (for widget)
Podiom on vote page (show or hide)
Statistics (show or hide)
Statistics -> online player (automatic, this displays the value you put in the configuration)
Statistics -> set number of unique players (not automatic / "fake stat", this displays the value you put in the configuration)
Statistics -> set record of connected (not automatic / "fake stat", this displays the value you put in the configuration)
Set social network (Twitter, YouTube, Discord, Steam, TeamSpeak and Instagram)
Activate or deactivate the block "Join the x Connected players!"
Links below copyright
Links to the right of copyright
A copyright / mention "made with <3 by captain34 & Sloyni" is placed at the bottom of the site, this cannot be removed! The word "captain34" is a link that redirects to my twitter.
Screenshots :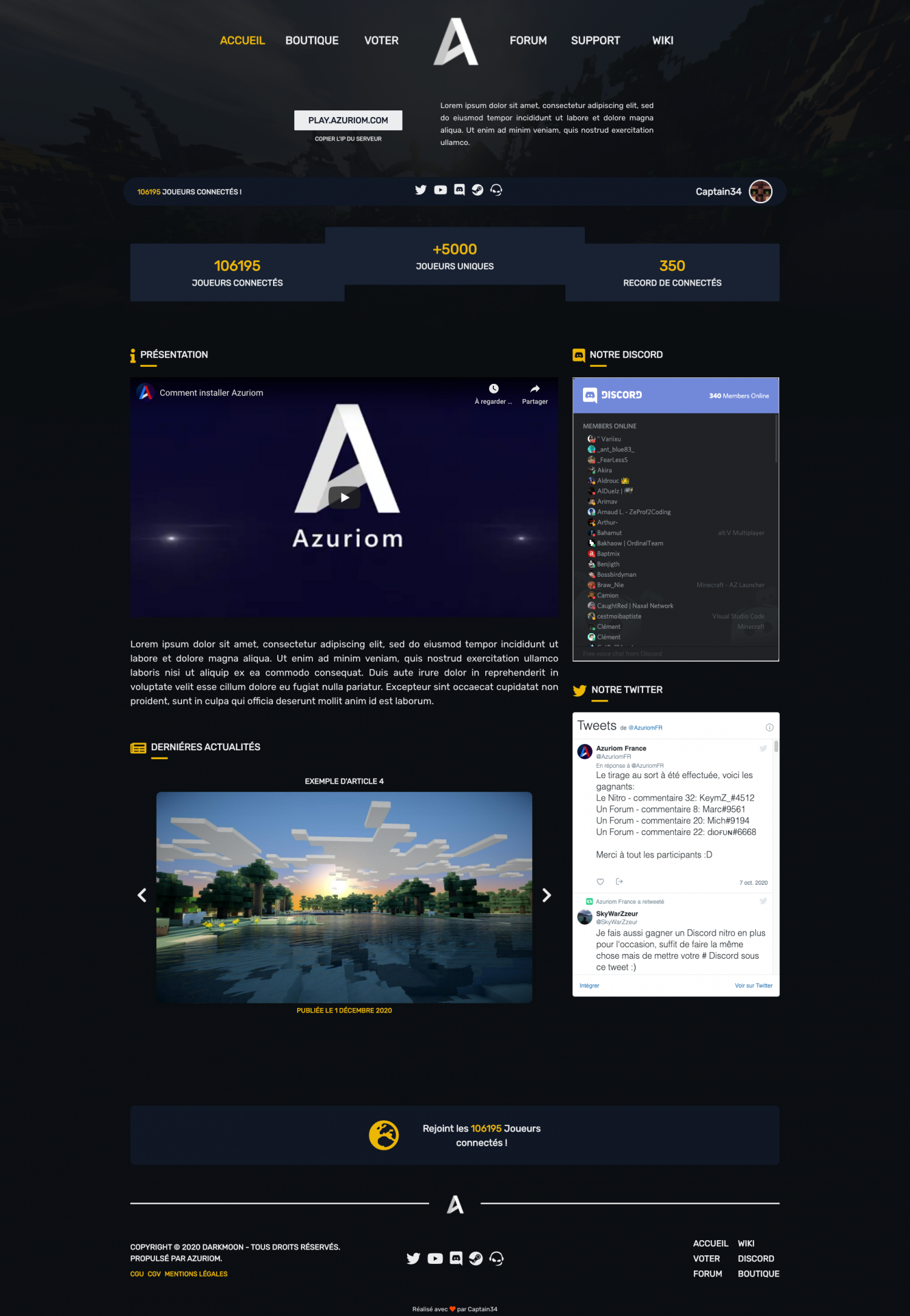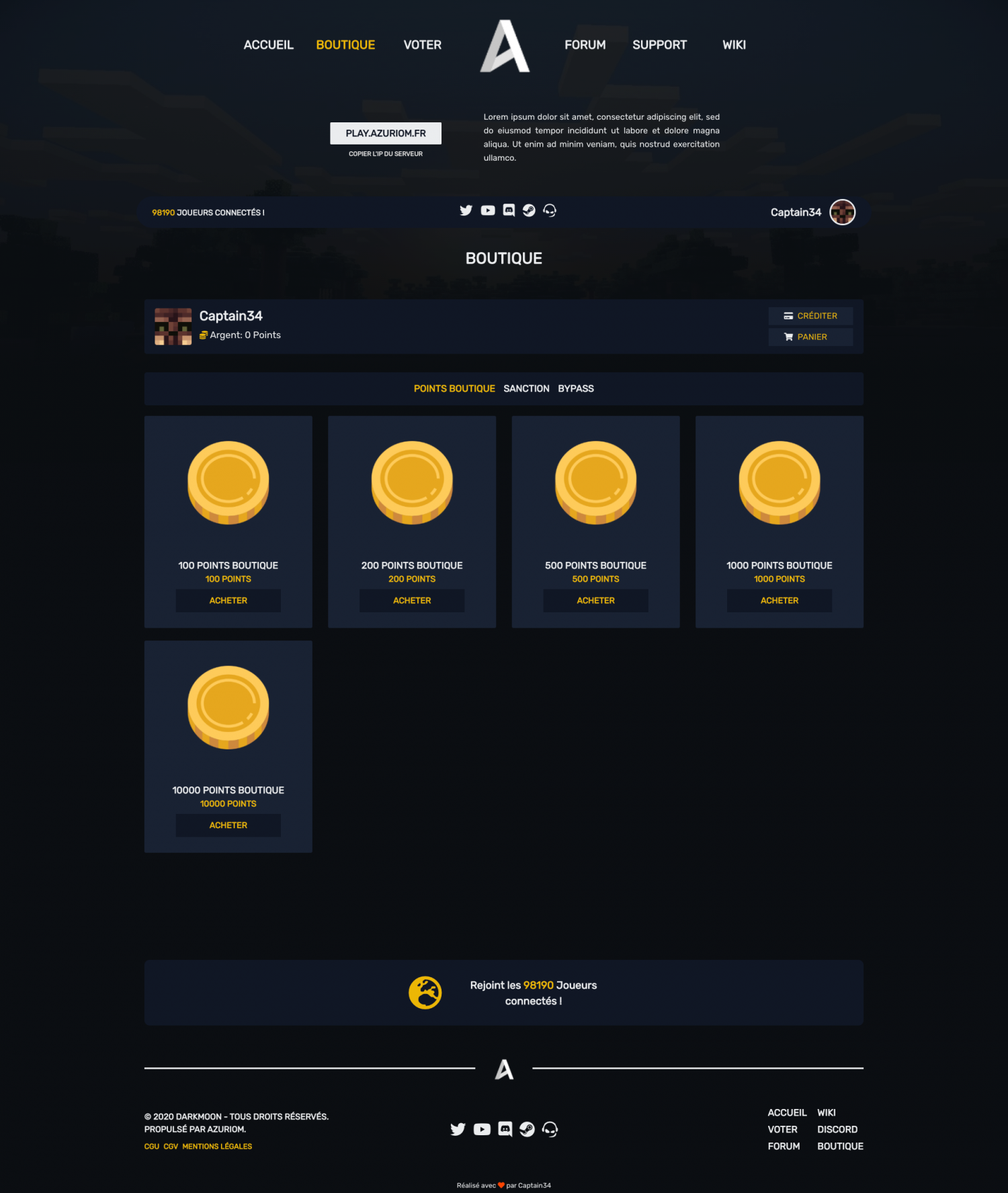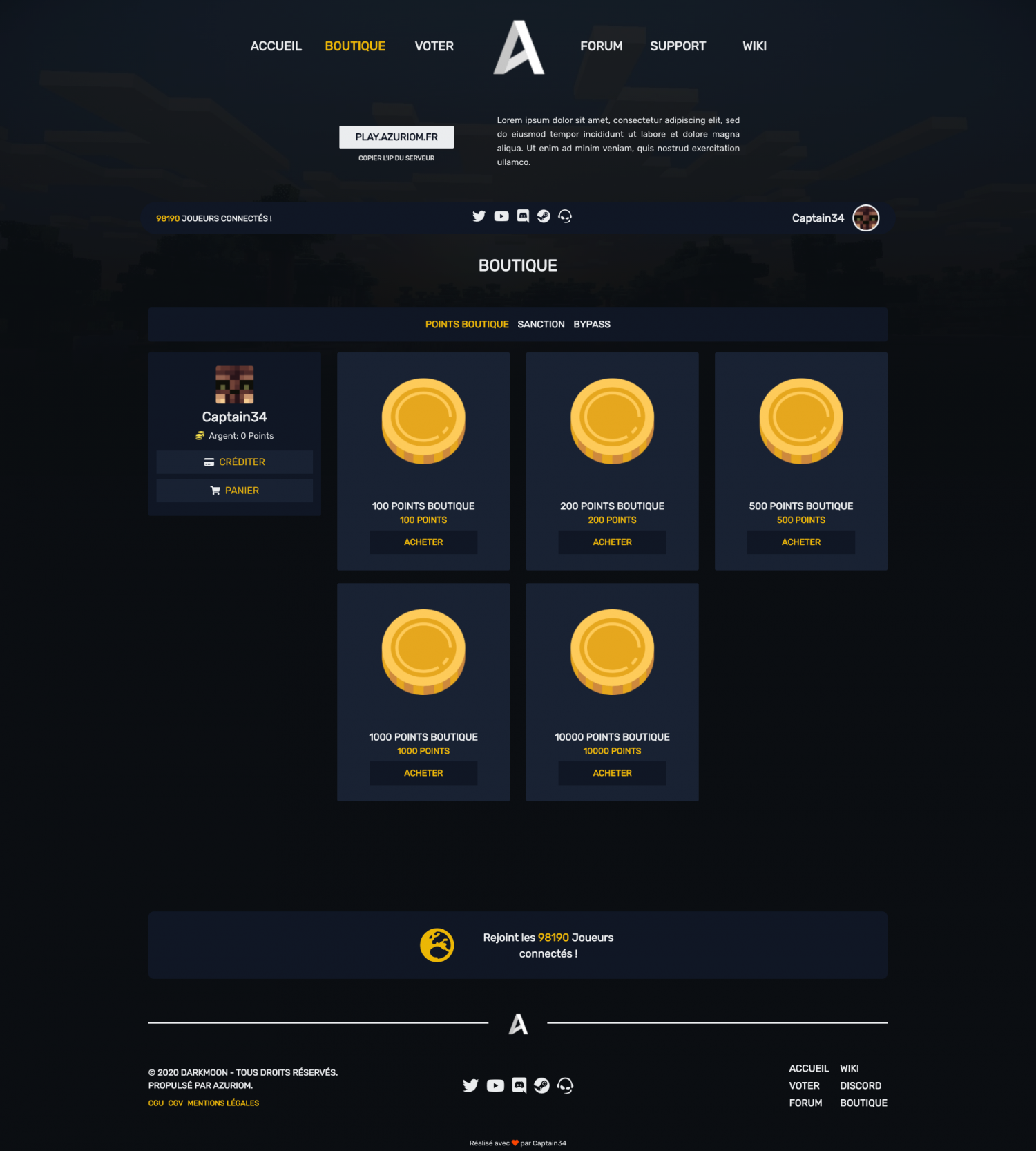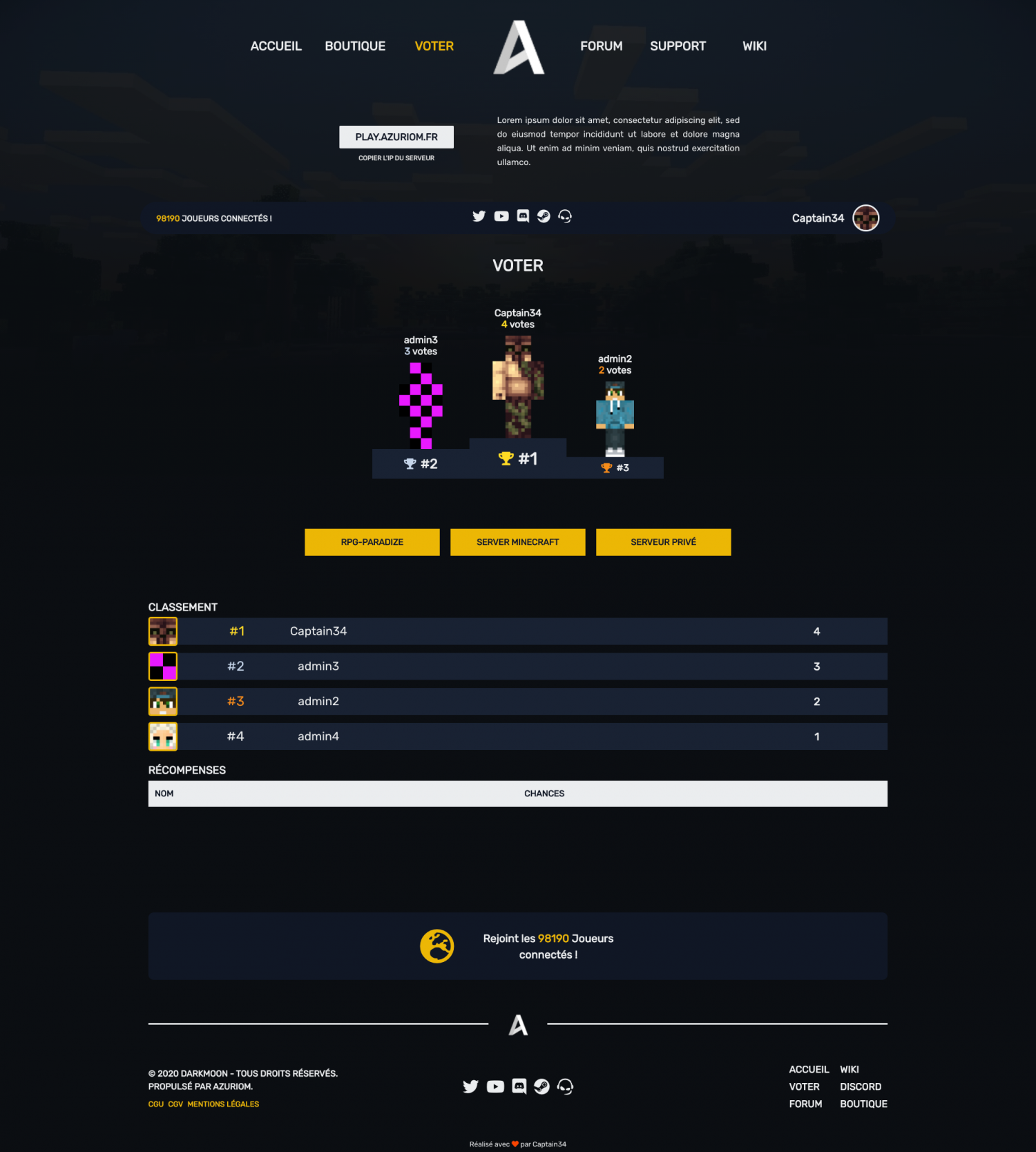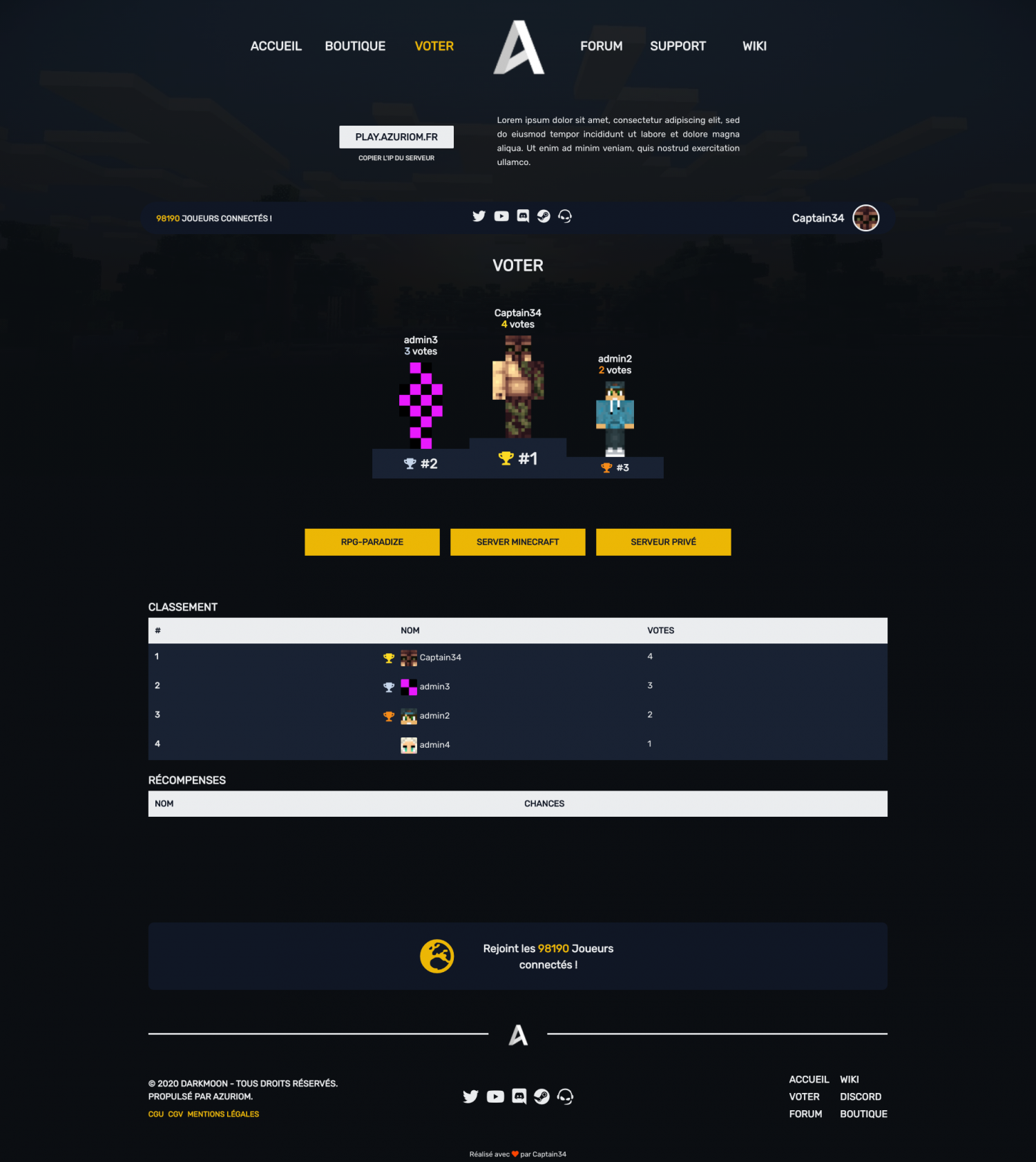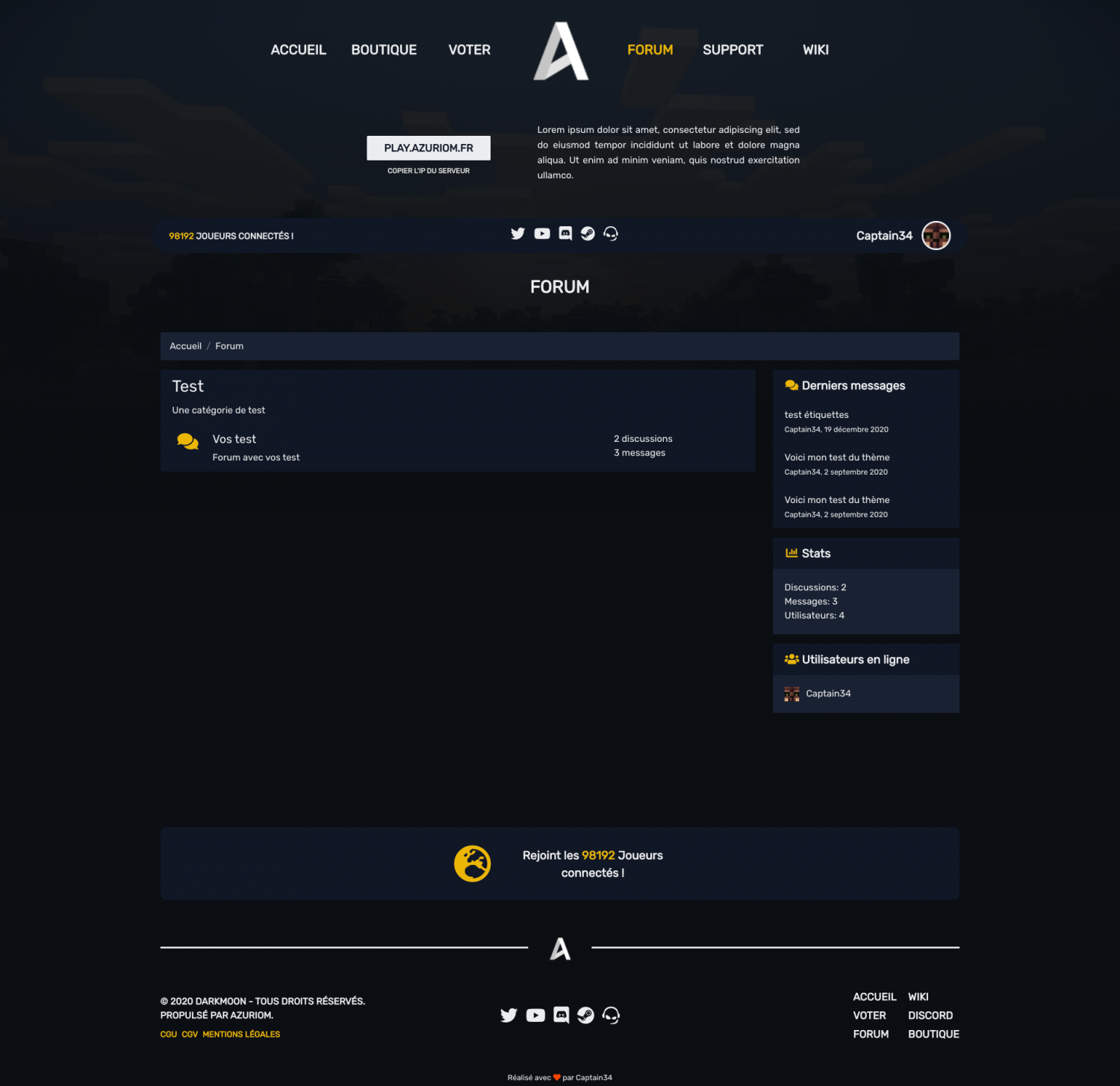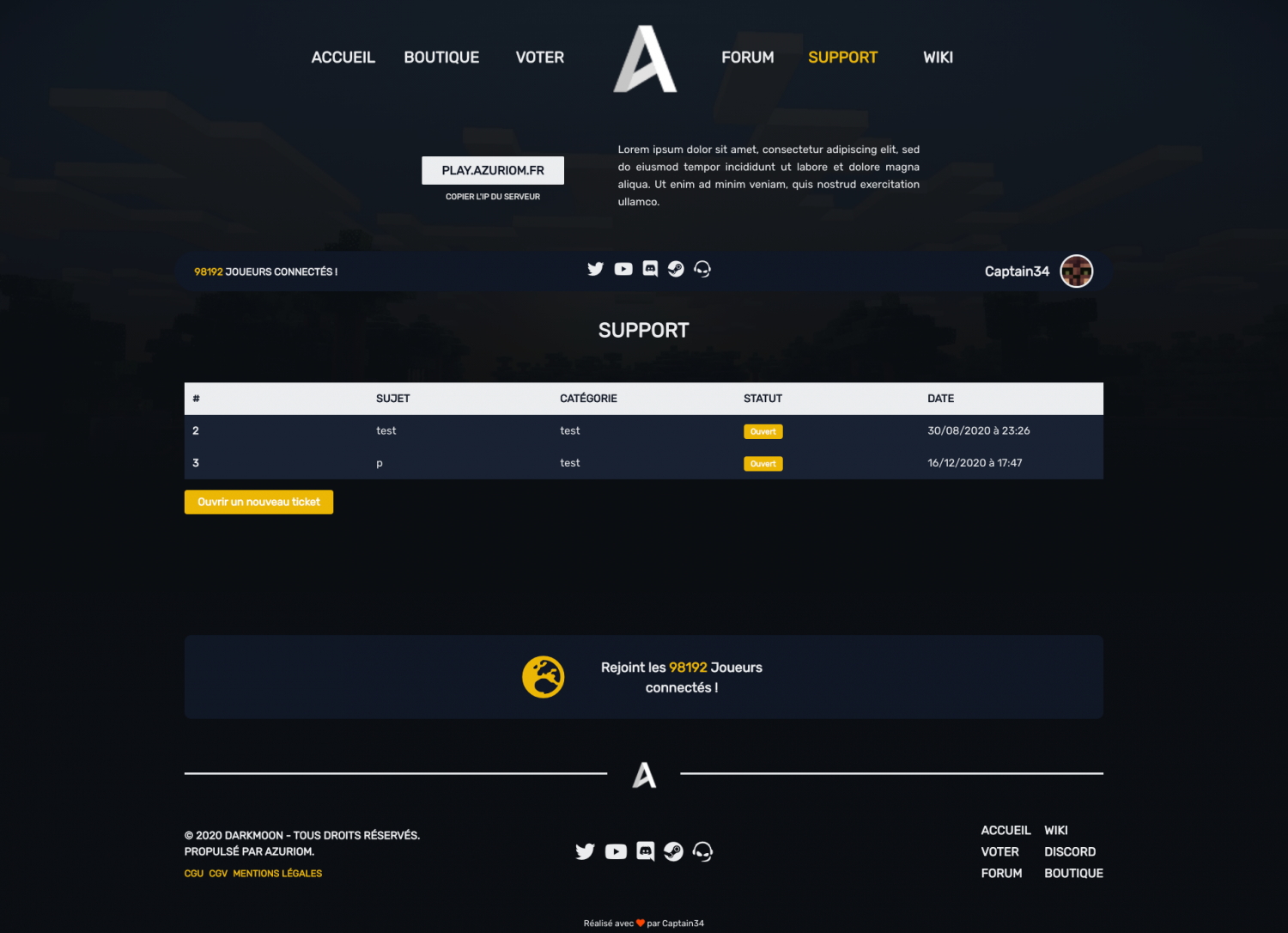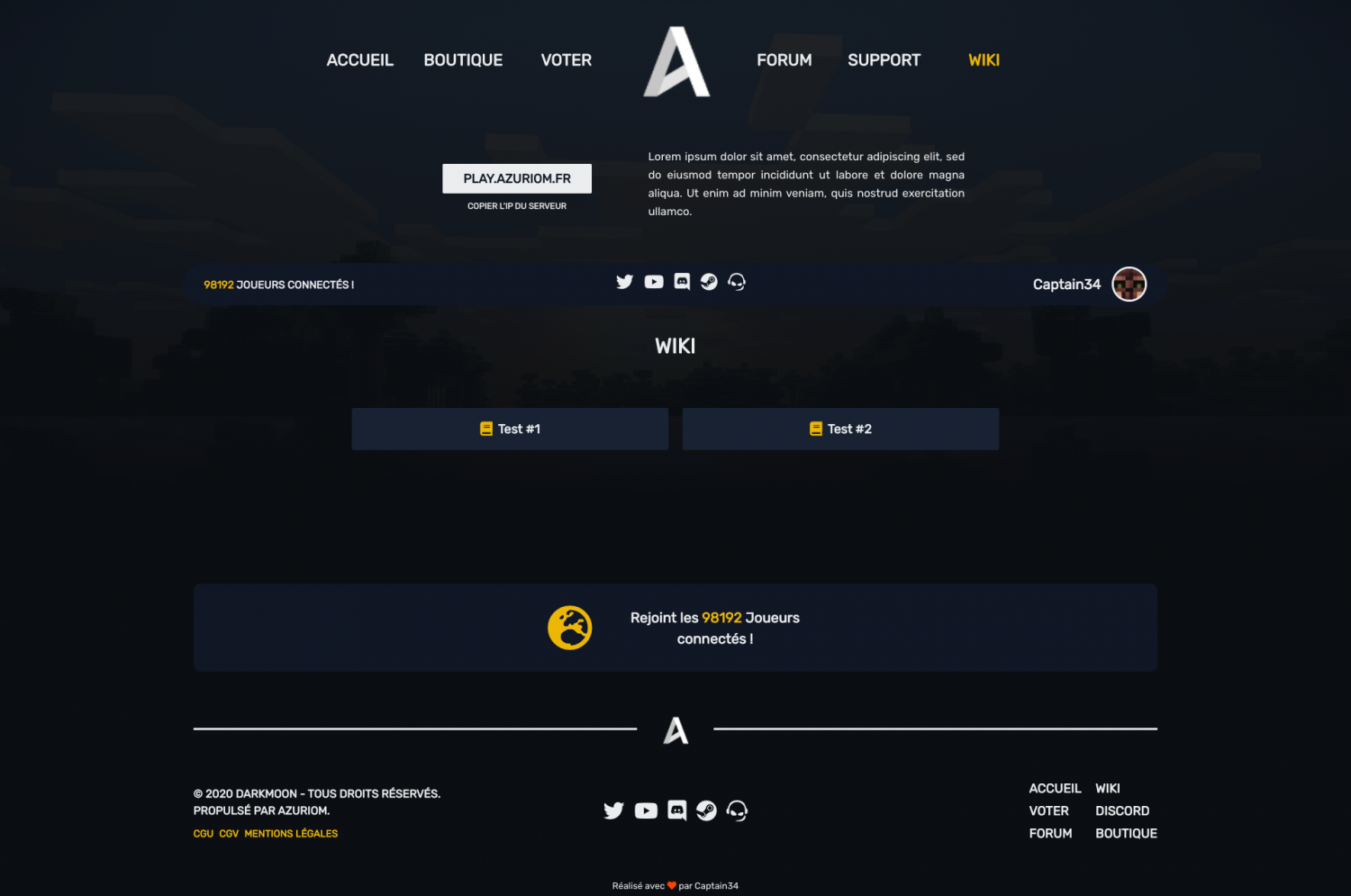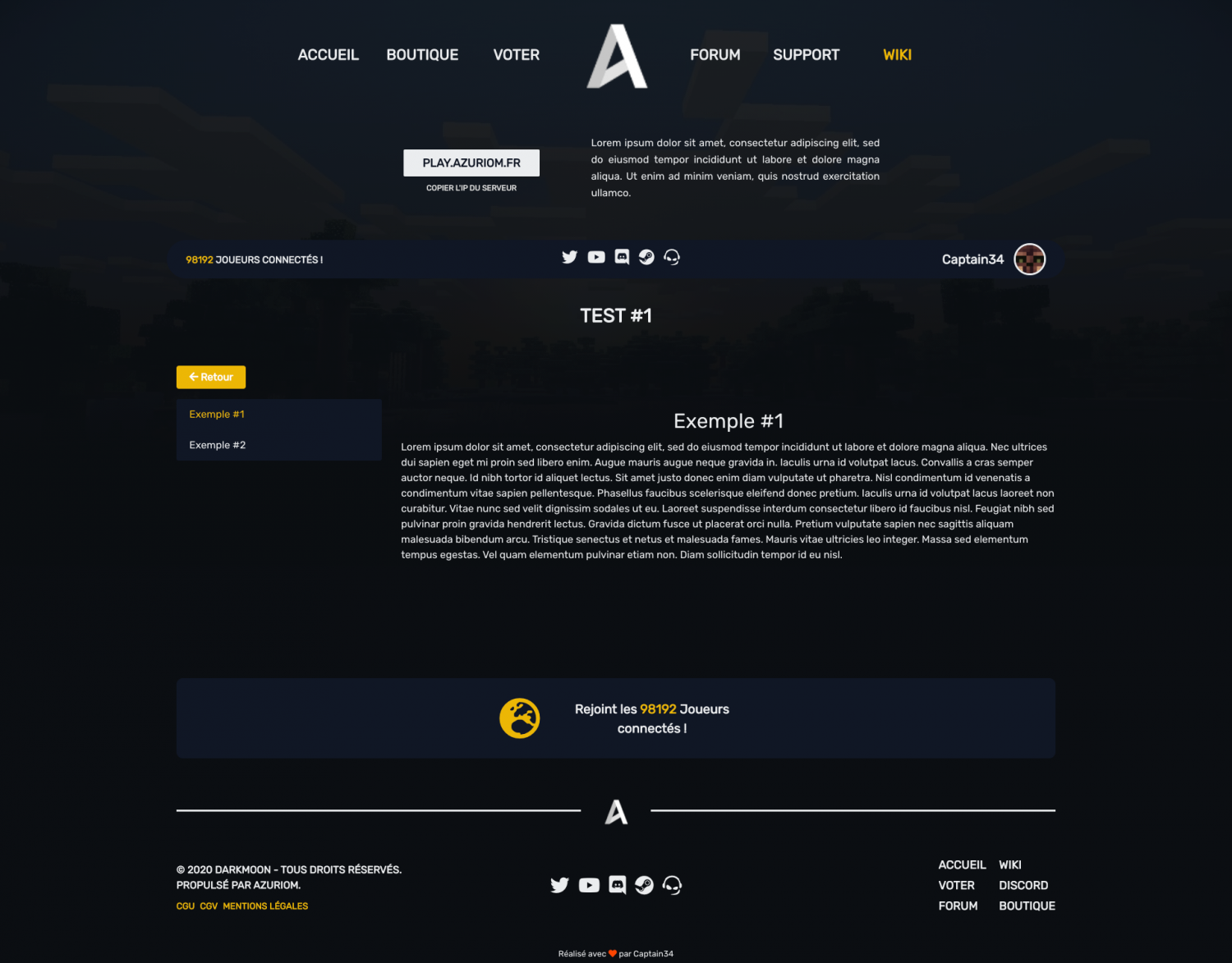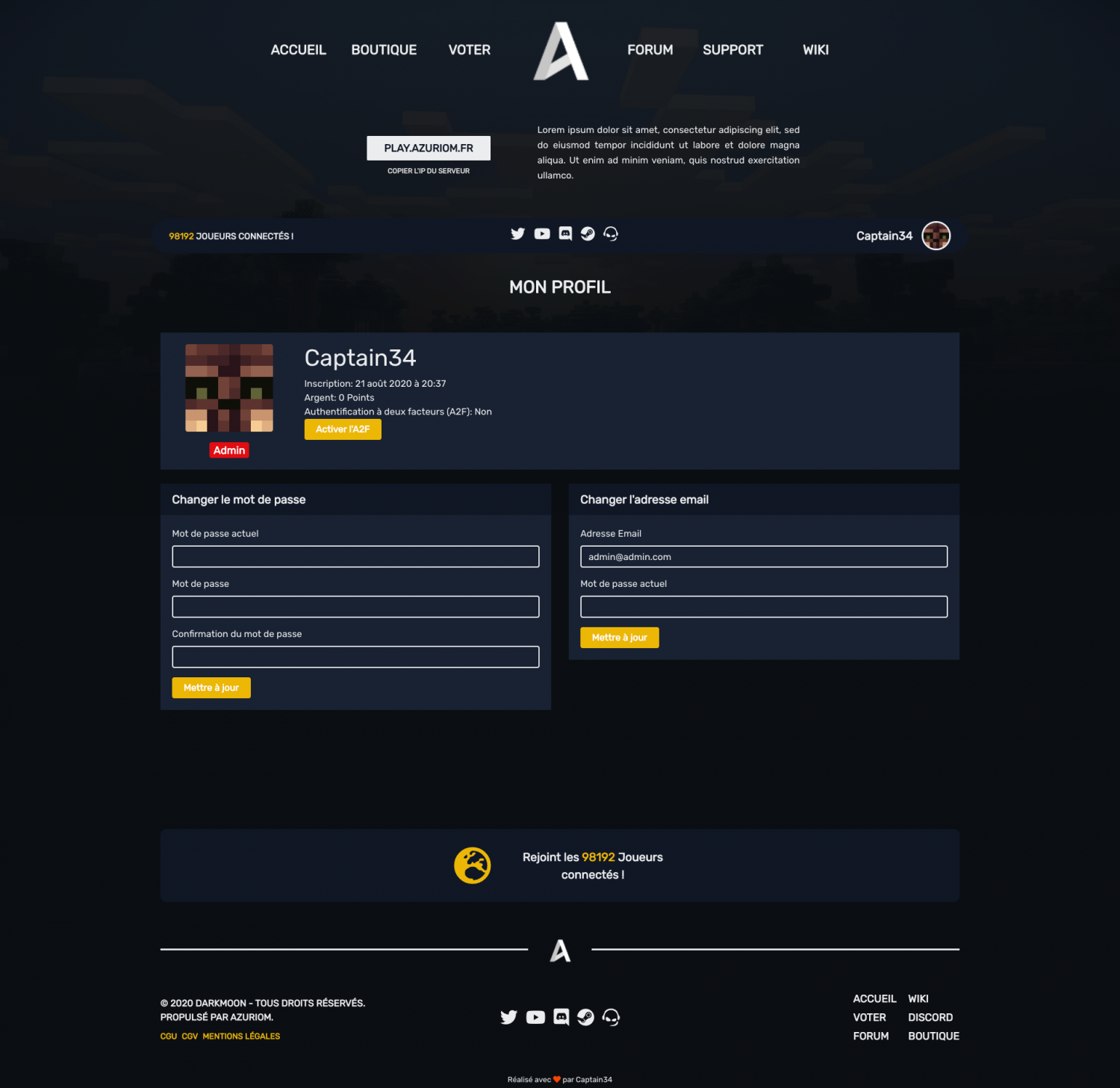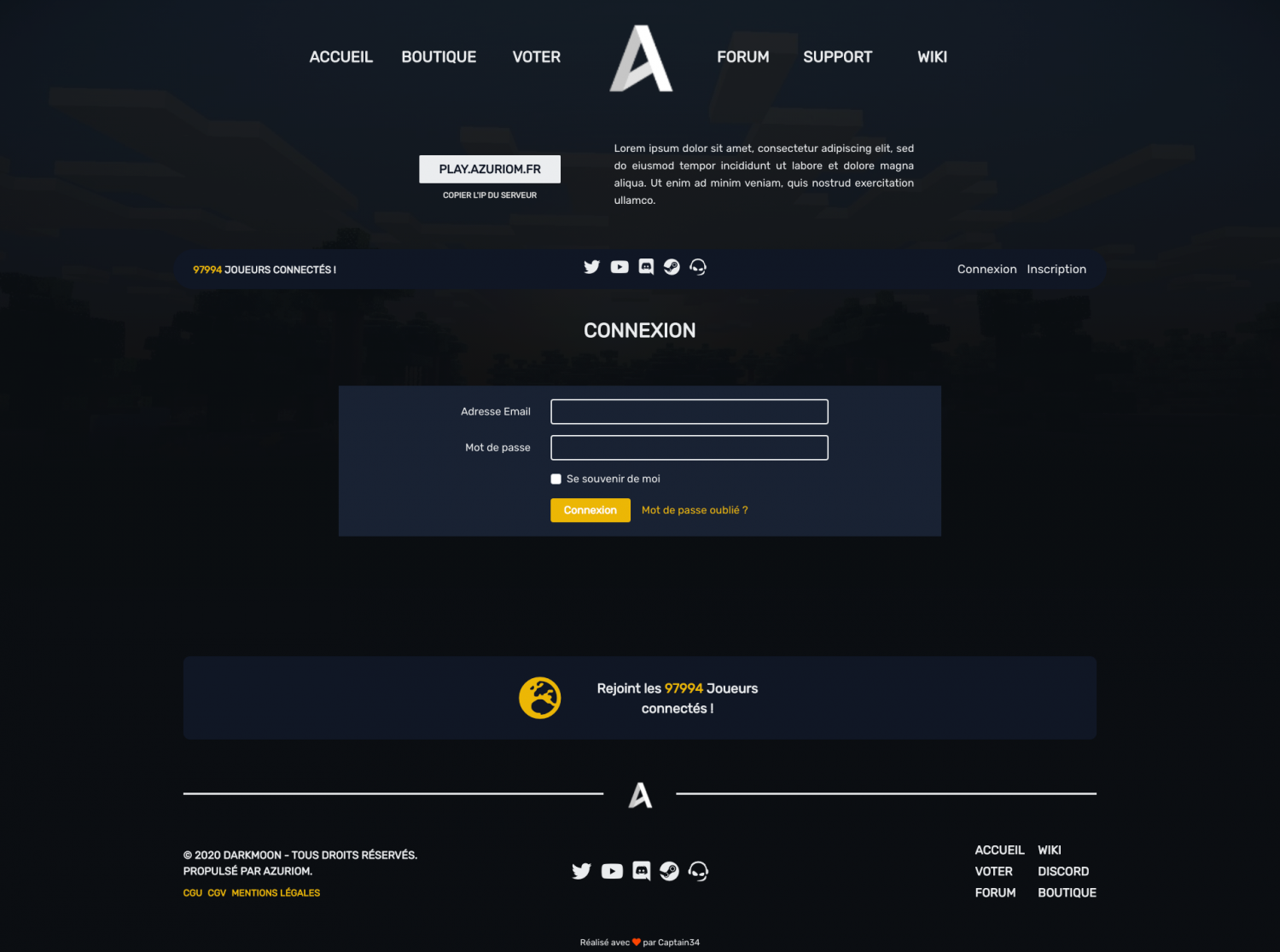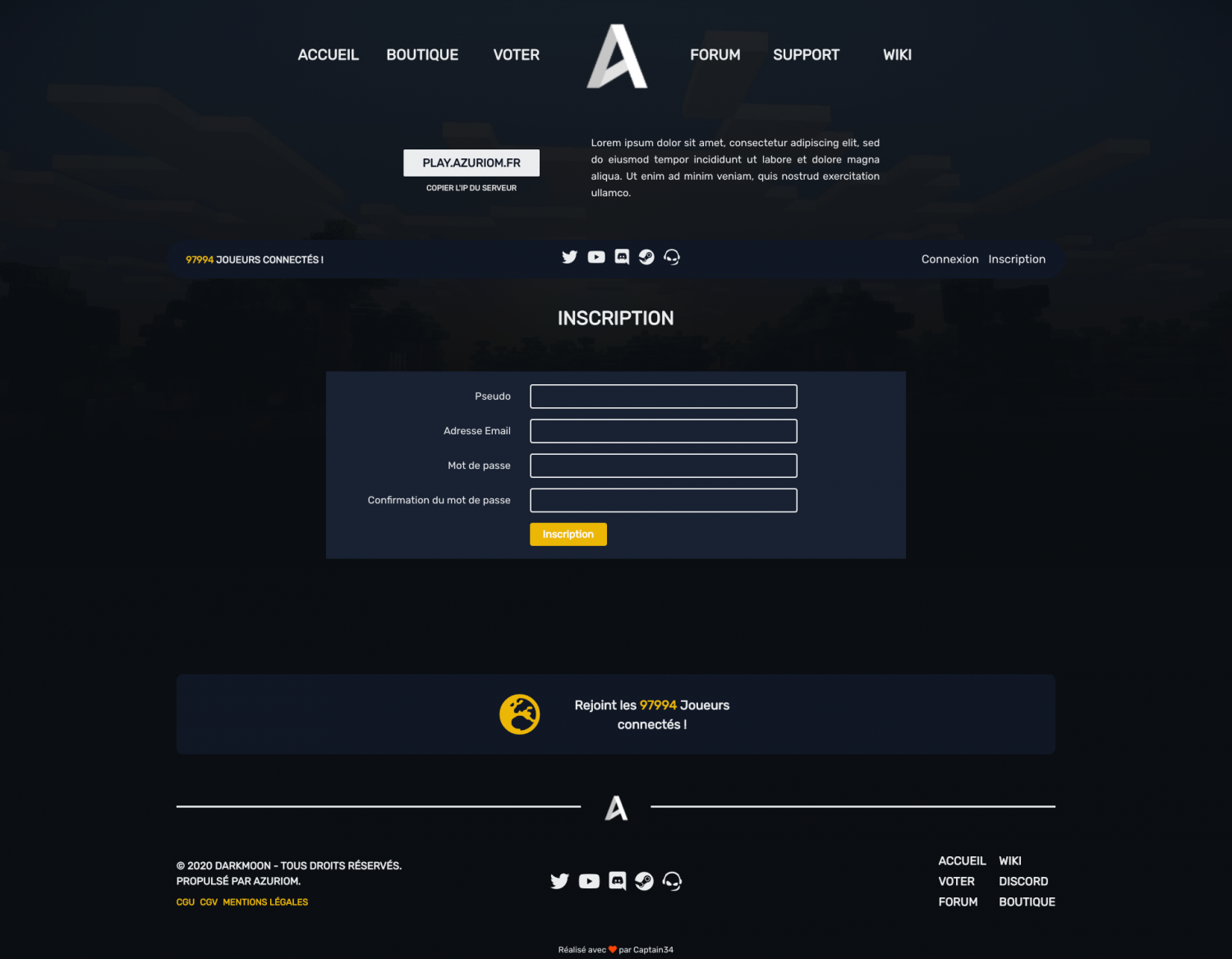 Policy for Darkmoon Template theme
Product Support Disclaimer
At Darkmoon Template theme, we provide our products "as is" without any guarantee of official support. While we strive to offer the best possible products, we understand that issues may arise. To address these concerns, we encourage you to join our Discord community, where you can seek assistance from our team and fellow users. Please note that our team's presence on Discord is voluntary, and response times may vary.
Discord Community Link:
Updates and Descriptions
As our products evolve, we may update or change their descriptions to better reflect new features, improvements, or bug fixes. Please be aware that the product you receive might not exactly match its initial description. We highly recommend checking for the most recent updates and product descriptions on our website or within the application before making a purchase.
Refund Policy
All sales of Darkmoon Template theme are final. Due to the nature of our digital products, we cannot offer refunds or exchanges. By making a purchase, you agree to this policy and acknowledge that you have reviewed the product description, updates, and any available documentation. Thank you for your understanding, and we hope you enjoy using our products.
---
Kopen
Paid extensions are made by third-party developers and Azuriom does not take any commission on sales.
Informatie
Auteur: sloyni
Type: Thema
Versie: 2.1.8
Downloads: 1320
Vrijgelaten: december 20, 2020 at 2:14 's ochtends
Bijgewerkt: augustus 18, 2023 at 8:48 's ochtends
Steun
Van dezelfde auteur.