AirDrop
Retain your players by offering them money at random times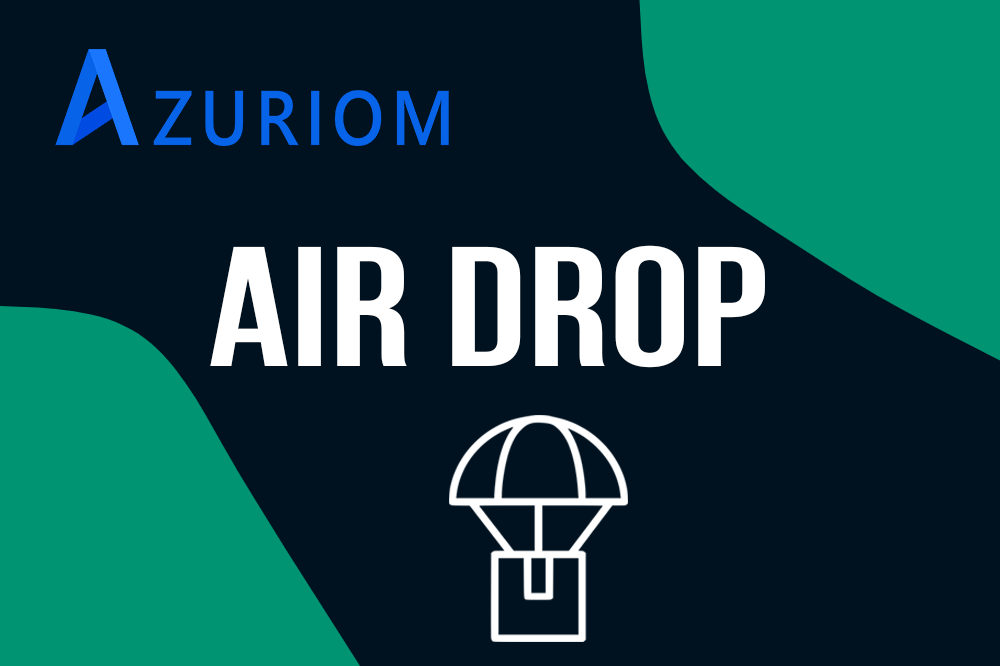 ---
/!\ Pas de support pour la configuration des tâches planifiées pour le plugin Airdrop, vous devez vous rapprocher du support de votre hébergeur
/!\ No support for setting up scheduled tasks for the Airdrop plugin, you need to get closer to your host's support You need to setup Cron tasks for your website
__
On shared hosting you need to setup a cron task that execute with php the file artisan in public_html/htdocs with the arguments shedule:run On Linux : * * * * * cd /path-to-your-project && php artisan schedule:run >> /dev/null 2>&1 On Windows 10 : https://quantizd.com/how-to-use-laravel-task-scheduler-on-windows-10/
An improvement to suggest ? go to discord ! Une suggestion ? go sur discord ! -> https://discord.com/invite/upPHs3WsUt
---
Le plugin envoie un webhook discord avec un code à une heure aléatoire en fonction des paramètres, les joueurs ont la possibilité d'entrer le code et de gagner une somme aléatoire d'argent (site).
The plugin sends a discord webhook with a code at a random time based on the settings, players have the option to enter the code and win a random amount of money (site).
---
Users view / Vue utilisateur (without theme / sans thème):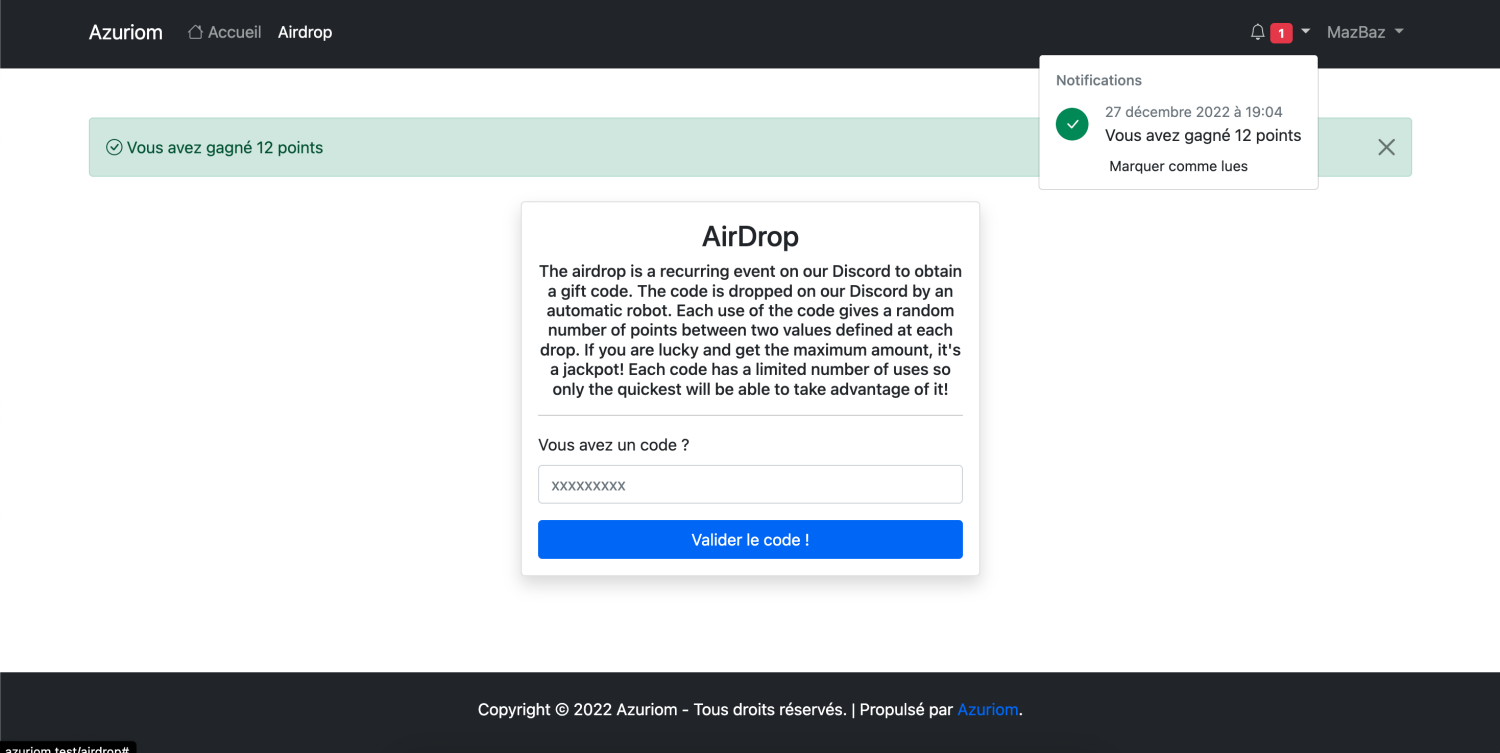 ---
Admin view / Vue admin: -> Settings / Paramètres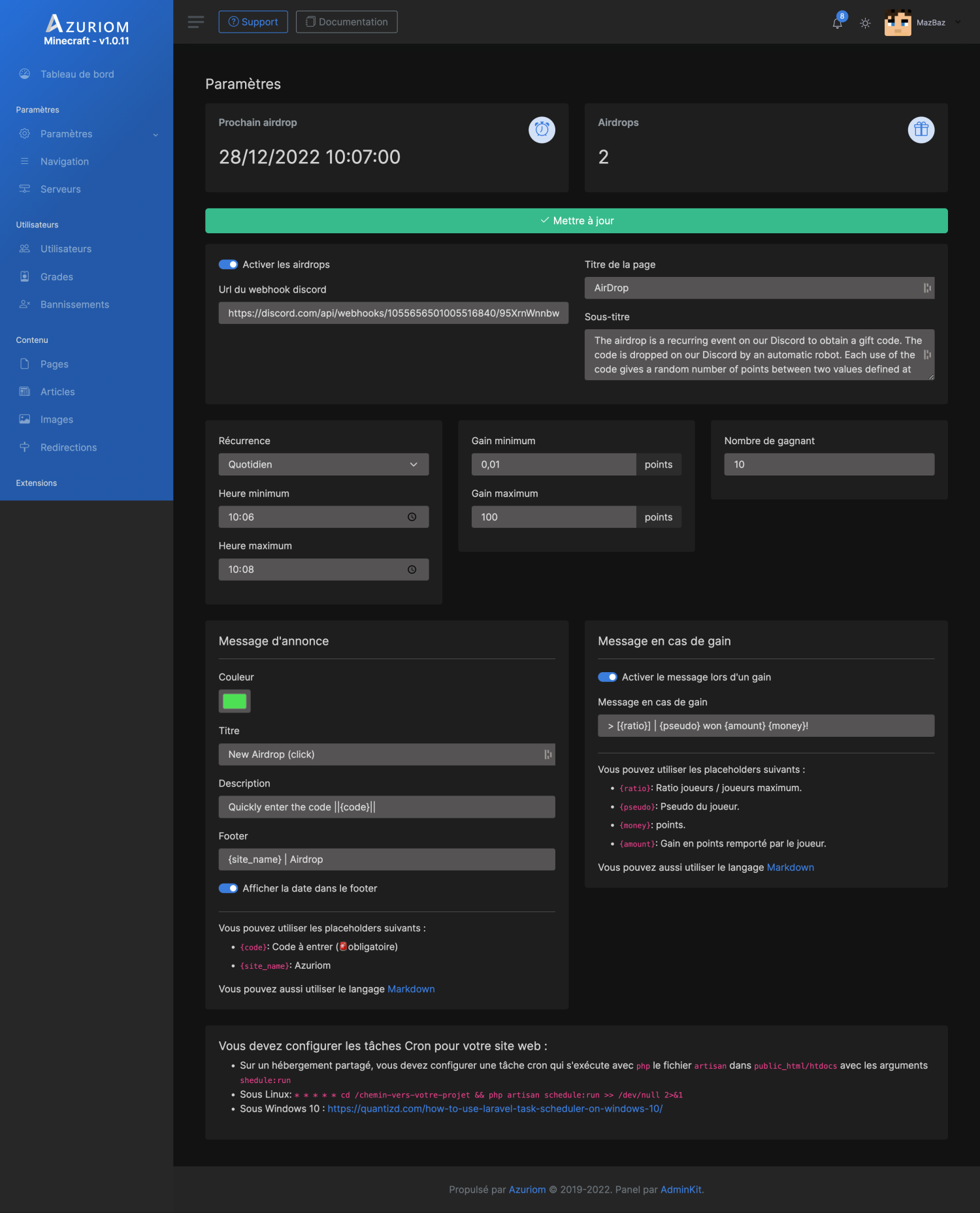 ---
Discord channel / Chanel Discord :

---
Buy
Paid extensions are made by third-party developers and Azuriom does not take any commission on sales.
Information
Author: MazBaz
Type: Plugin
Version: 1.0.5
Downloads: 173
Released: December 23, 2022 at 2:13 AM
Updated: January 10, 2023 at 10:42 PM
Support
From the same author