Spin Wheel
A wheel of fortune plugin for Azuriom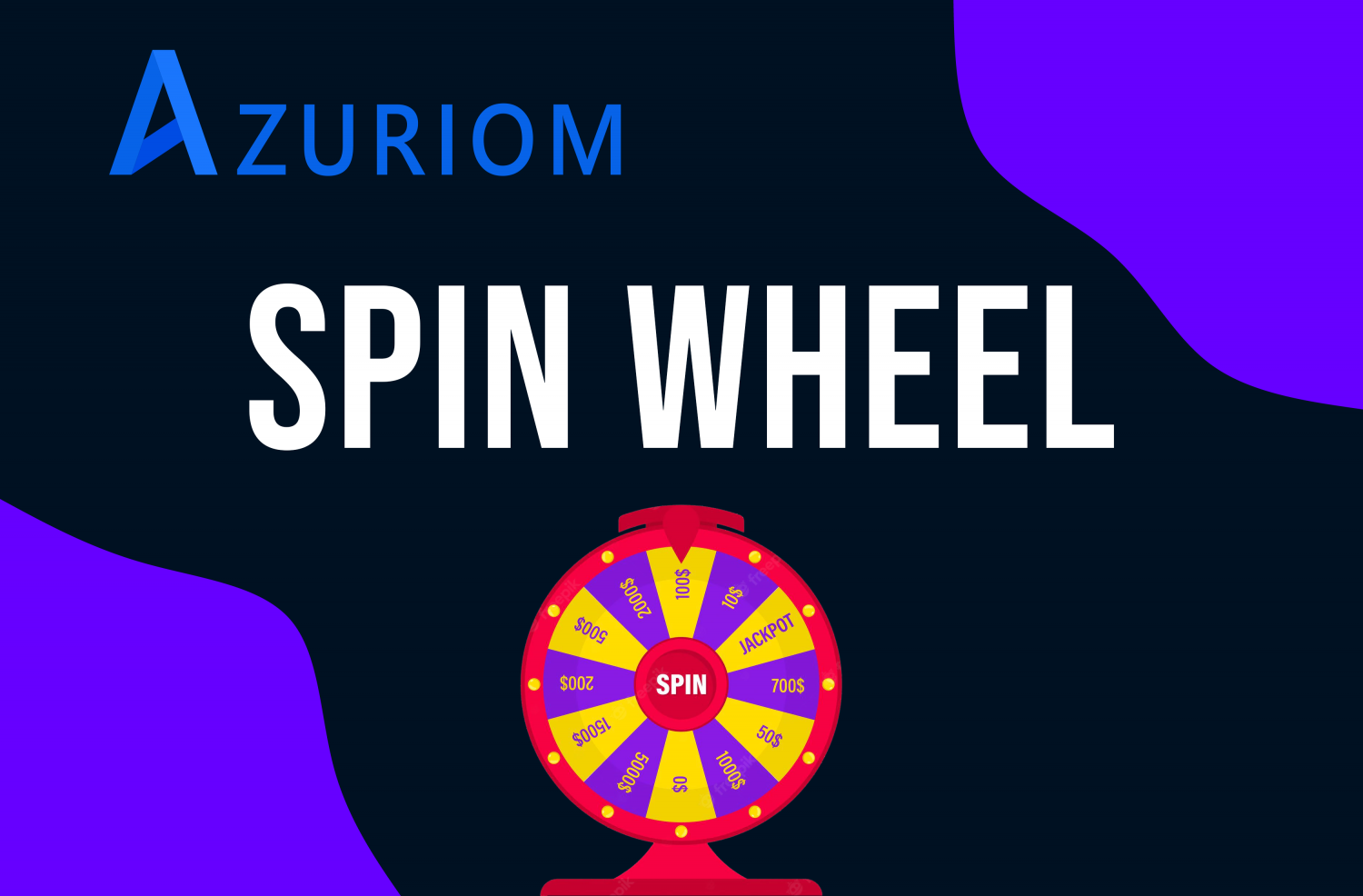 ---
Configurez vos récompenses : Chance, commande à exécuter sur le serveur, gain d'argent du site, etc. Il est également possible de restreindre l'accès à la roue en fonction du rang, pour permettre à vos meilleurs joueurs de profiter de cette roue !
Configure your rewards: Chance, command to be executed on the server, site money gain, etc. It is also possible to restrict access to the wheel according to rank, to allow your best players to take advantage of this wheel!
---
Spin-Wheel plugin v2 brings the following changes:
Several pages (Settings, Rewards, Statistics) to simplify its use
Setting up a free spin
Possibility to choose on which server the reward command should be executed
The possibility of sending a webhook (customizable) on discord which can be activated or not for each reward
The ability to change the appearance of the reward on the wheel
More advanced statistics to better regulate your economy
Enable or not the display of the percentage of rewards on the homepage
---
La v2 du plugin Spin-Wheel apporte les modifications suivantes :
Plusieurs pages (Paramètres, Récompenses, Statistiques) afin de simplifier l'utilisation de celui-ci
La configuration d'un tour gratuit
La possibilité de choisir sûr quelle serveur la commande de la récompense doit être exécutée
La possibilité d'envoyer un webhook (customisable) sur discord activable ou non pour chaque récompense
La possibilité de modifier l'apparence de la récompense sur la roue
Des statistiques plus poussées afin de mieux réguler votre économie
Activer ou non l'affichage du pourcentage des récompenses sur la page d'accueil
---
Users view / Vue utilisateur (without theme / sans thème):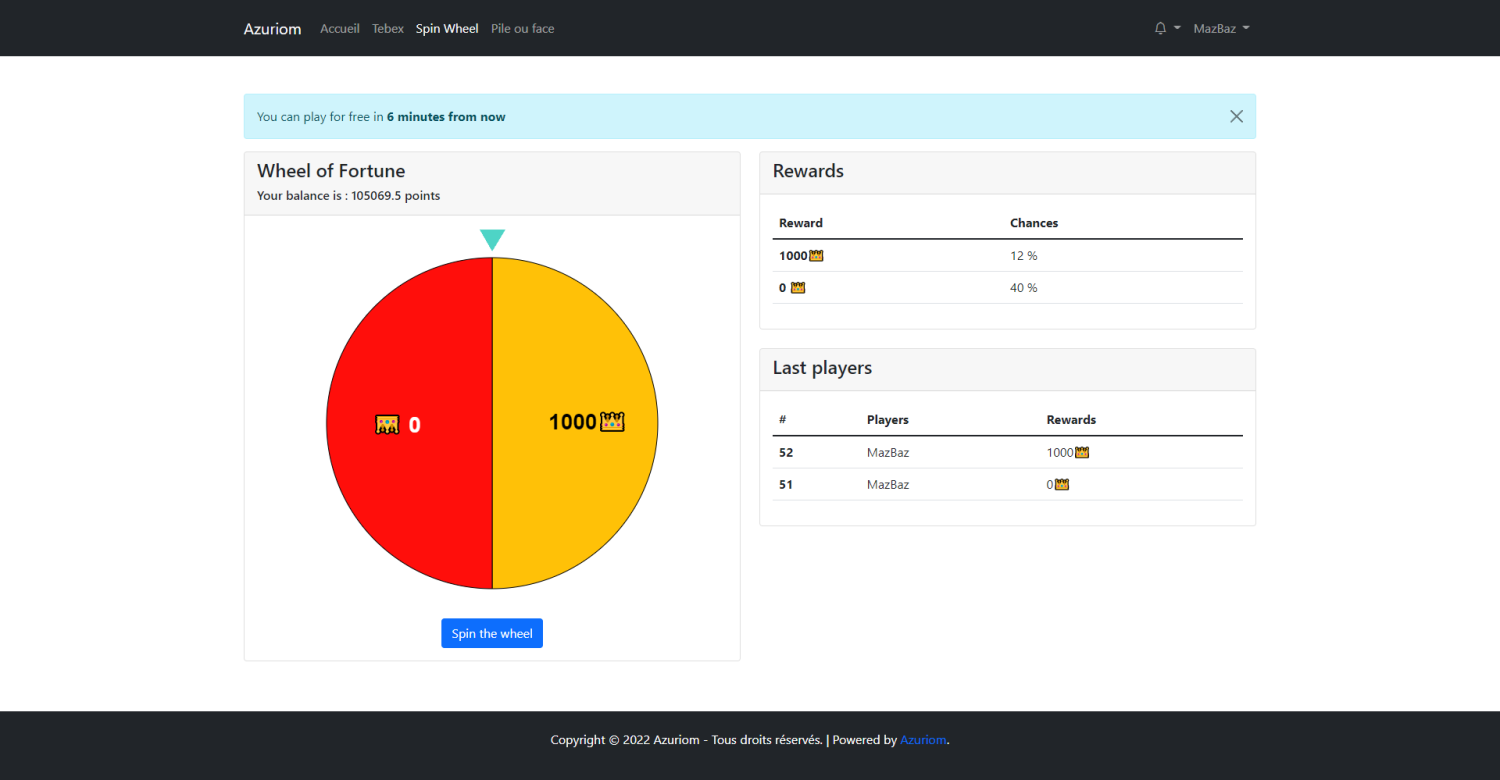 Admin views / Vues admin: -> Settings / Paramètres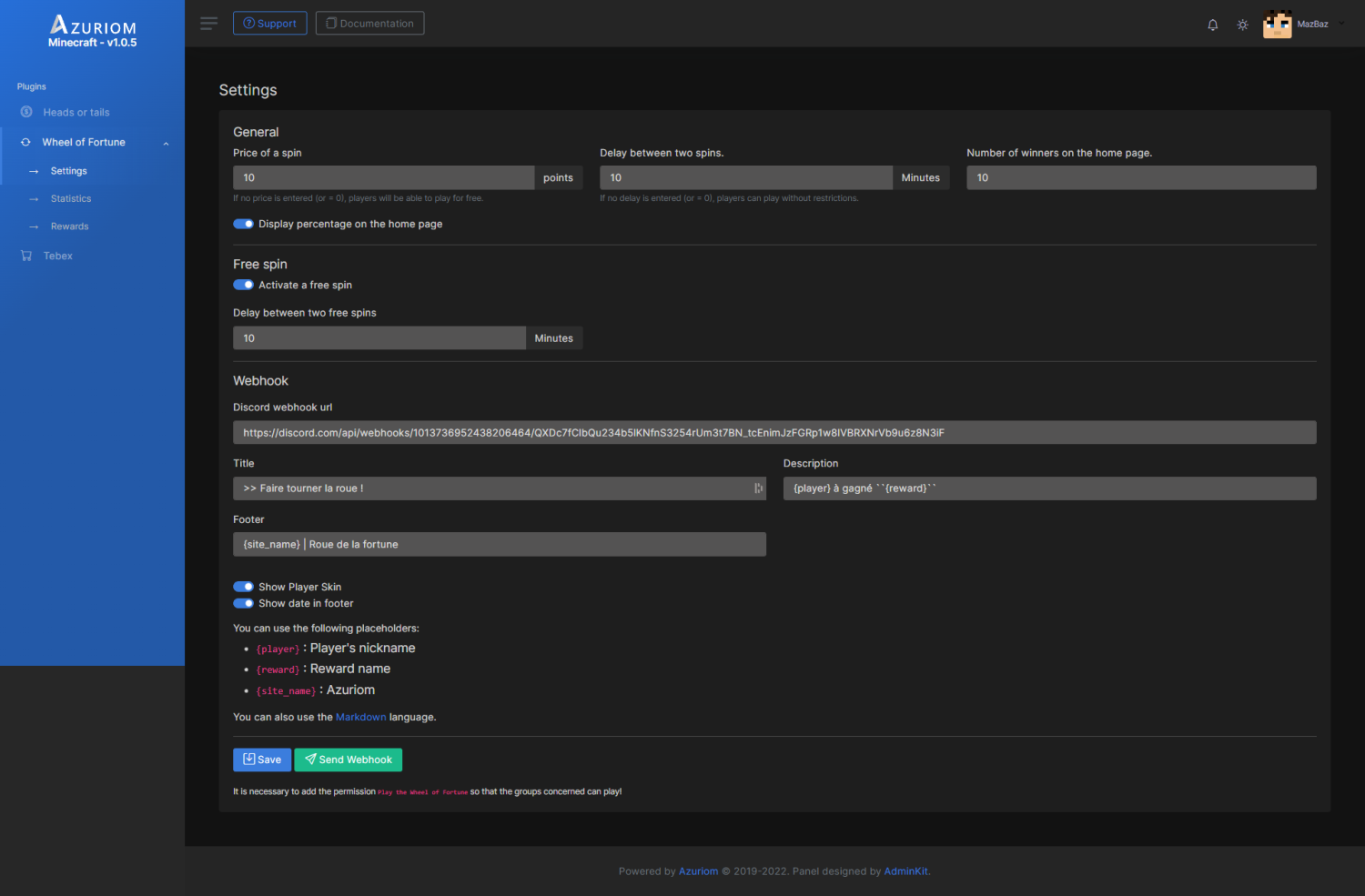 -> Create reward / Créer une récompense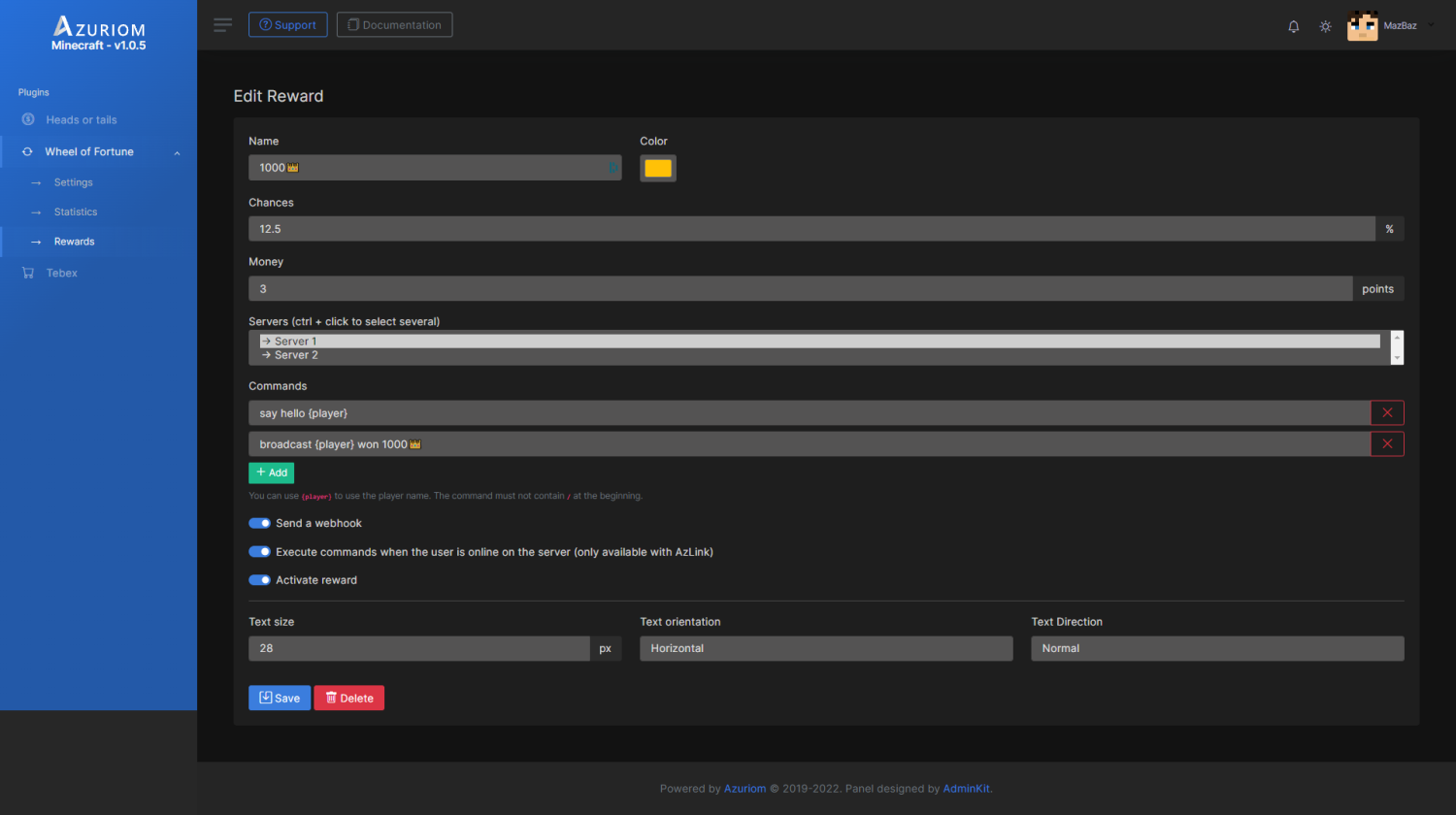 -> Statistics / Statistiques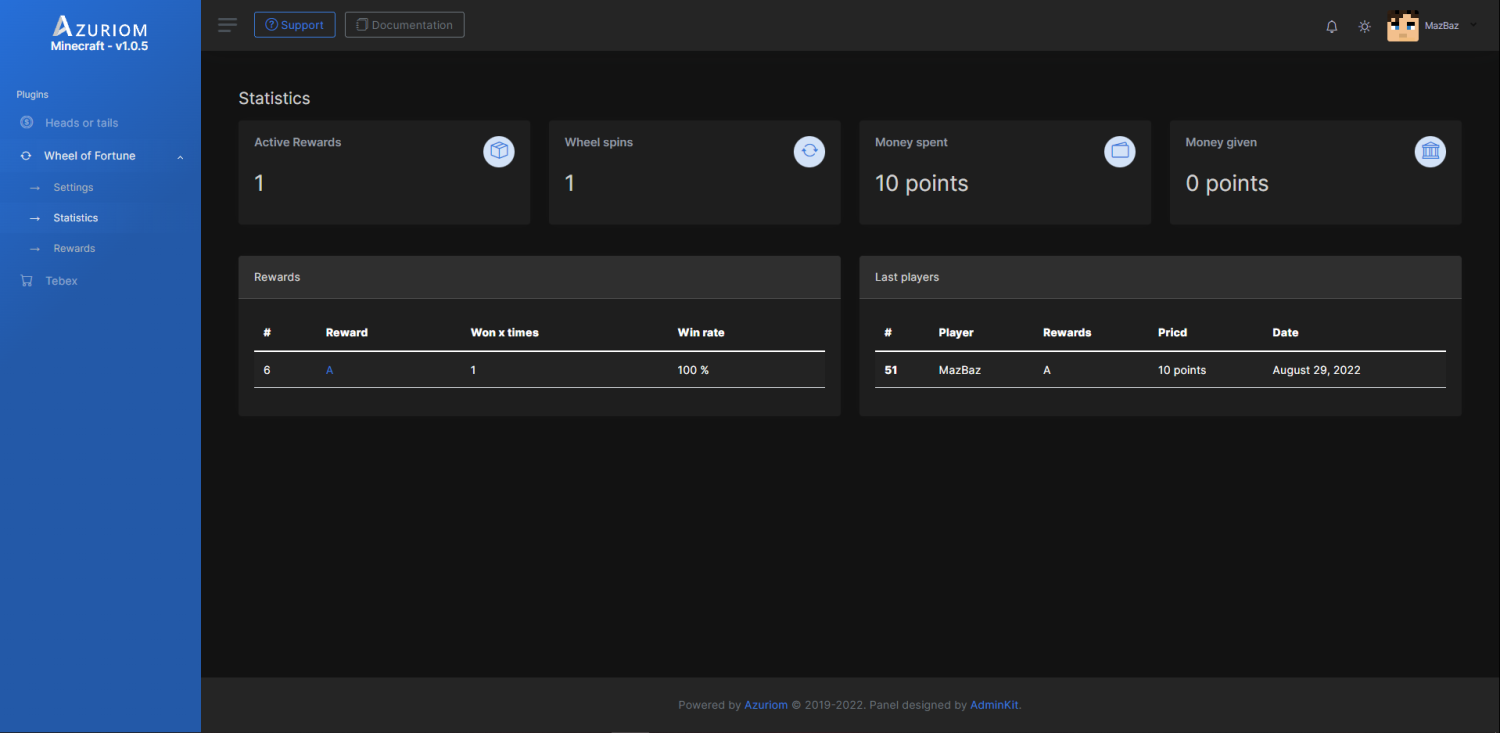 https://media.giphy.com/media/gQbJmkB32qzMW2rgPB/giphy.gif
An improvement to suggest ? go to discord ! Une suggestion ? go sur discord ! -> https://discord.com/invite/upPHs3WsUt
---
Buy
Paid extensions are made by third-party developers and Azuriom does not take any commission on sales.
Information
Author: MazBaz
Type: Plugin
Version: 2.0.4
Downloads: 305
Released: August 1, 2022 at 12:15 AM
Updated: September 11, 2022 at 10:07 AM
Support